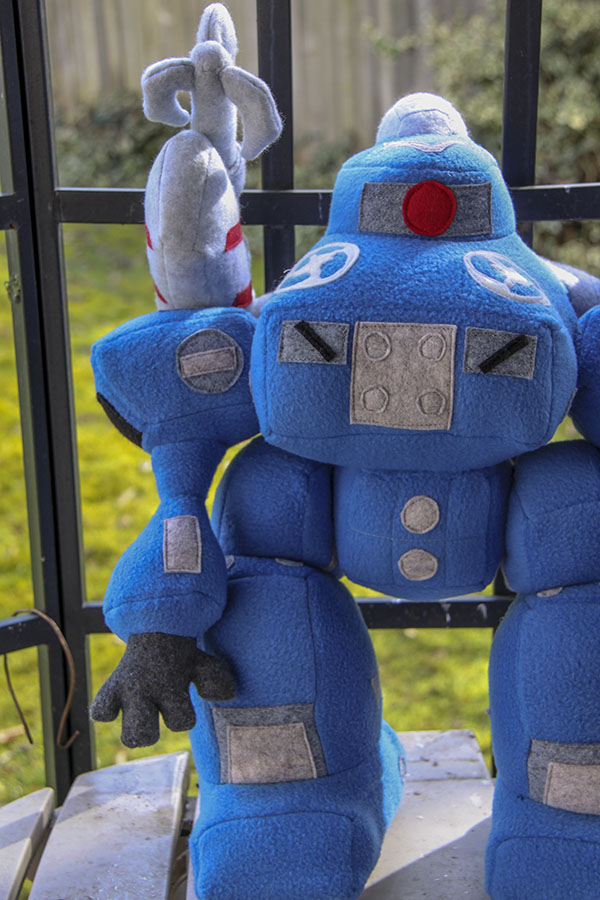 Ryoken had a custom Lancier Plushie made! Here's his story:
This is a story, and like any good story there is truth behind the legend.
Ryoken was young and new to the land of Dream Pod Forums.  He looked for new playmates and quickly made new friends.  But as others came to the Land of Pod, he noticed that they all received plushies.  Ryo checked again and again, but he never had the pleasure of receiving a plush. 
Ryoken put his distress aside, but in the back  his mind, the transgression still bothered him.   So he took a trip to the city of Khayr-ad-Din.  He marveled at the many sites and signs and one caught is eye.  A mechanic shopped called Arixystix.  He went inside and talked with the owner, a beautiful young mechanic by the name of Alix.  They sat and talked for many hours and discussed his plight.  After reaching an agreement, Alix took on the task of building him his plushie. 
She labored for many months, working in the late hours of the night and then she worked in to the early hours of the morning.  She forged on tirelessly until she had built him a plushie from the ground up.
While she worked, Ryoken waited and waited.  Finally he received the call!  He rushed down to her shop, and sitting there before him was his plushie, Lance the Lancier.  He was over joyed and thanked Alix forher work.  The lost plushie was not lost any longer.
So, what we have here is a custom Lancier plushie.   It was created by http://www.arixystix.com/blog/ for myself with the permission of Robert from DP9.  I will give Alix a better plug when I am home from work.
You can read more about this amazing creation on our forums.