News
We asked our artist, John Bell, to make a Chibi Thanksgiving Gear for the holiday and he came up with a Chibi King Cobra in turkey color scheme for you all to enjoy. The Thanksgiving Holiday is a time to visit with family, talk, eat turkey, watch some football, and prepare yourselves mentally for the madness that is Black Friday to come.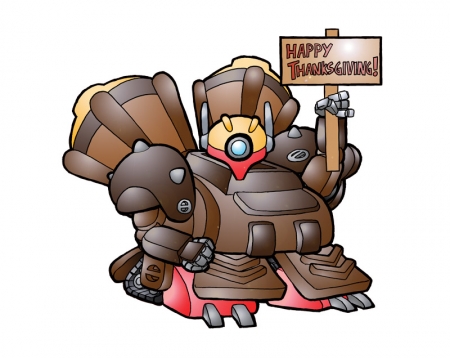 Dream Pod 9 is kicking off the Holiday Season today on the DP9 Online Store with our Thanksgiving thru Black Friday Weekend Promotion (Nov. 26th to Monday morning Nov. 30th). We'll be giving double Pod Reward Points, plus all orders over $100 will receive our new 2015 Xmas Gift mini of the Chibi Kodiak a $24.99 value free, limit one free xmas gift per customer. We'll be making another post later today with photos of the Chibi Kodiak.
A typical order of $100 should give you 10 reward points and we'll add the bonus points to your account when we process the order. So most will have at lease 20 reward points to use on their next order, where you could pickup a Chibi Hunter or Jager using your points if you like. Here is a link to the Dream Pod 9 Online Store for all interested.
Submitted by

Robert Dubois

on Thu, 11/26/2015 - 12:13pm
Heavy Gear Blitz New Edition News and Downloads
Click here for news on the new edition of Heavy Gear Blitz which is currently under development. With Alpha/Beta playtest downloads of the new rules and armylists. Get involved in the playtesting and help us make the new edition the best miniature game out there!
Visit our Facebook page for
more news and updates!